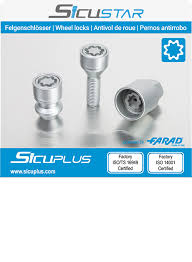 This wheel lock is the safest of the products range of FARAD.
Thanks to the resistance to twisting higher than 400Nm, the washer that cannot be cut and the bolt's head which can hold out against any attempt to break it.
Sicustar is certified by the most important car makers and by the THATCHAM Institute.
Now it is available also for After-Market.
Technical features:
– 400 combinations
– Zinc layer
– Corrosion resistance: 720 h, Norm ISO 9227:2006
– Torque Tension max. tested: 400 Nm
– Characteristics: Rotating Socket an THATCHAM examined
– Available in silver and black!
Hind 44.90e (km-ga)